Answer
Answer
The genus Allium includes onions, garlic, and chives.
Garlic is the most common cause of fingertip dermatitis in homemakers and caterers. The condition typically involves the thumb, the index finger, and the middle finger of the nondominant hand. Fresh garlic is both an allergen and a potent irritant that often causes second- and third-degree burns when applied to injured skin (see image below). Therefore, patch testing to whole garlic should never be performed. The irritants and the allergens are thought to be diallyl disulfide, allylpropyl disulfide, and allicin. [12] Onion (Allium cepa) dermatitis is rare.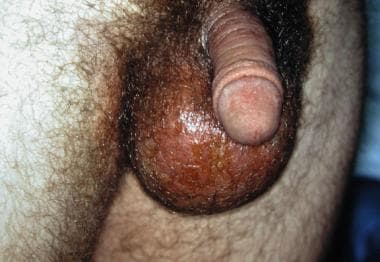 Irritant reaction on the scrotum after contact with garlic (Allium sativum). Courtesy of Martin Giandoni, MD. Reprinted with permission from Cutis 67: 193, 2001.
---
Did this answer your question?
Additional feedback? (Optional)
Thank you for your feedback!