Answer
Answer
Asteraceae dermatitis may appear in a diffuse pattern across exposed skin surfaces, mimicking photodermatitis; however, localized hand eczema is more common (see first image below). Unlike photosensitive dermatoses, diffuse Asteraceae dermatitis involves the eyelids, the melolabial folds, the retroauricular sulci, and the antecubital fossae (see second image below).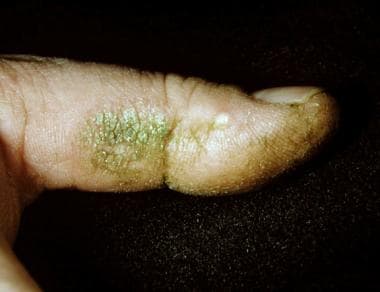 Finger of a florist with an eczematous plaque caused by sensitivity to tulipalin A, the allergen contained in Peruvian lilies (family Alstroemeria).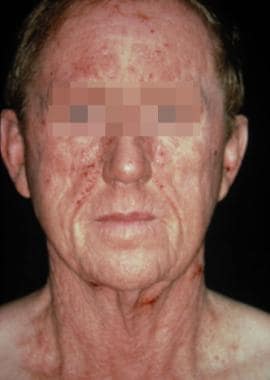 Airborne contact dermatitis in a patient who is allergic to sesquiterpene lactones. The involvement of the anterior part of the neck seen here is typically absent in photodermatoses. Courtesy of Dirk Elston, MD.
The dermatitis flares in the summer during the plant's growing season and disappears in the winter. Individuals who are allergic to Asteraceae plants frequently have reactions to plant allergens present in perfumes, woods, Balsam of Peru, colophony, and lichens. Asteraceae dermatitis often precedes chronic actinic dermatitis.
---
Did this answer your question?
Additional feedback? (Optional)
Thank you for your feedback!