Answer
Answer
The genus Toxicodendron includes common poison ivy (T radicans), western or northern poison ivy (Toxicodendron rydbergii), eastern poison oak (Toxicodendron toxicarium), western poison oak (Toxicodendron diversilobum), and poison sumac (Toxicodendron vernix).
Poison ivy and poison oak are weeds that grow in a variety of habitats, but they prefer shaded areas with rich, wet soil. These plants have 3-5 leaflets per compound leaf, which leads to the adage "Leaves of three, leave them be" (see first image below). The flowers and fruit of the plant grow in an axillary position in the angle between the leaf and the twig (see second image below). The leaf stalk is enlarged at its origin from the supporting twig, resulting in a U- or V-shaped scar when it is fractured. The green fruit turn off-white when they are mature. The winter shape of poison ivy on fence posts resembles medusa heads. One should strongly suspect that any climbing vine with aerial rootlets connected to a tree or log is poison ivy or poison oak.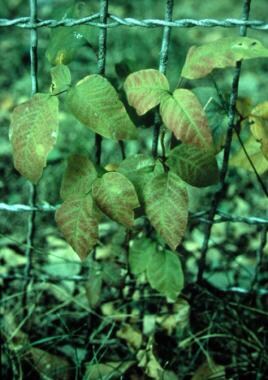 Young poison ivy plant Toxicodendron radicans. The leaves of 3 are easily identified. Reprinted with permission from WB Saunders.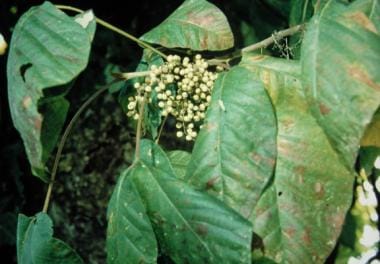 Mature poison ivy Toxicodendron radicans. Fruit arises in an axillary position in the angle between the leaf and the branch.
Poison sumac, which has 7-13 leaflets per leaf, is primarily found in wooded swampy areas. Nonpoisonous sumac species (genus Rhus, family Anacardiaceae) have red fruits. Poison sumac species (genus Toxicodendron, family Anacardiaceae) have white-to-green hanging fruits. The black-spot test helps in identifying toxic urushiols, which are self-melanizing on exposure to oxygen. To perform the black-spot test, use a stone to thoroughly crush the plant sample, especially the leaf stalks, inside a sheet of folded white paper. Urushiol turns dark brown within 20 minutes and black within 24 hours.
---
Did this answer your question?
Additional feedback? (Optional)
Thank you for your feedback!