Answer
A number of insecticides are effective, including permethrin, and diethyltoluamide is an excellent insect repellent. Bedbugs feeding after insecticide exposure may alter the effects of the pesticide on bedbug mortality. [31] Permethrin spray can be applied to clothing. Combined use of permethrin-treated clothing and cutaneous diethyltoluamide may be considered. In an African survey of rural homes, bed nets impregnated with permethrin were responsible for the disappearance of bedbugs. [32]
Note that encephalopathy may occur in children exposed to high concentrations of diethyltoluamide. Infant bedding can be treated separately with pyrethrums.
To prevent bedbugs from gaining access to the bed, try inserting bedposts of bedbug-free beds into containers of paraffin oil. However, bedbugs can be resourceful; they have been known to climb walls and across ceilings to drop onto their victims during the night. See the image below.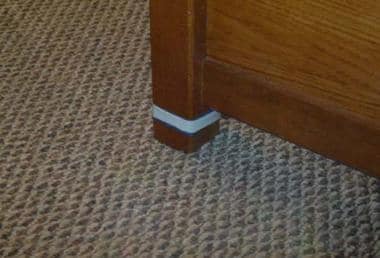 Treatment for bedbug bites is typically supportive. Local antiseptic lotions or antibiotic creams can be applied for secondary infections, whereas corticosteroid creams and oral antihistamines can be used for allergic reactions. Bedbugs can be eliminated through the use of permethrin insecticides, baited traps, special bedbug-free beds, and bed nets. Homemade methods, such as wrapping duct tape around bed legs as shown, may be effective, but bedbugs have been known to climb other objects and then fall down onto a bed. Image courtesy of Wikimedia Commons.
---
Did this answer your question?
Additional feedback? (Optional)
Thank you for your feedback!