Answer
The type of reaction provoked depends on previous exposure; repeated bites may lead to an allergic reaction, which may lead to pronounced cutaneous manifestations. Some patients show a severe systemic hypersensitivity to arthropod allergens. The site of the bite can also become secondarily infected with bacteria infection and lead to ecthyma, cellulitis, and/or lymphangitis.
See the image below.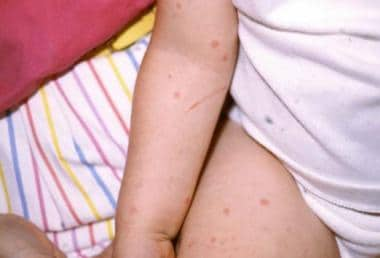 Bedbug bites themselves are typically painless. However, the subsequent allergic reaction that may develop can cause intense pruritus. While feeding, bedbugs may inject one of several pharmacologically active substances, including hyaluronidase, proteases, and kinins. These compounds may induce different skin reactions, such as erythema, wheals, vesicles, or hemorrhagic nodules. Repeated bites may sensitize individuals, leading to more pronounced cutaneous manifestations or systemic hypersensitivity reactions. The local trauma from bedbug bites can lead to secondary bacterial infection, causing ecthyma, cellulitis, or lymphangitis. There is some evidence that bedbugs may also be a vector for hepatitis B and Chagas disease. Histologic findings from bite-site biopsy specimens typically show eosinophilic infiltrates, which are indicative of the allergic nature of the reaction. The image shown is papular urticaria, which may develop from bedbug bites.
Thus, although these insects usually cause mild cutaneous reactions, more severe responses, including anaphylaxis, may occur. [10] Bullae may be noted. Skin responses at bite sites may evolve from immediate, pruritic, edematous macules into bullae within 24 hours. Histopathologically, an urticarial-like reaction can develop into a leukocytoclastic vasculitis, sometimes with a destructive, necrotizing, eosinophil-rich vasculitis with prominent infiltration of CD68+ histiocytes and collagen necrobiosis.
Insect bites, including those from the bedbug, have been proposed as a factor contributing to the formation of a cutaneous reaction termed papular urticaria. Patients with papular urticaria have been shown to demonstrate immunoglobulin (Ig) G antibodies to bedbug (C lectularius) antigens. [11] Thus, IgG against C lectularius, Cimex pipiens, and Pulex irritans in patients with papular urticaria may contribute the pathogenesis of this condition.
---
Did this answer your question?
Additional feedback? (Optional)
Thank you for your feedback!