Answer
Intertrigo (intertriginous dermatitis) is an inflammatory condition of skin folds, induced or aggravated by heat, moisture, maceration, friction, and lack of air circulation. [1] Intertrigo frequently is worsened by infection, which most commonly is with Candida. Bacterial, viral or, other fungal infection may also occur. Intertrigo commonly affects the axilla, perineum, inframammary creases, and abdominal folds, and it can also affect the neck creases and interdigital areas. [2, 3] Diaper dermatitis shows significant overlap with intertrigo. Intertrigo is a common complication of obesity and diabetes. [4]
See the image below.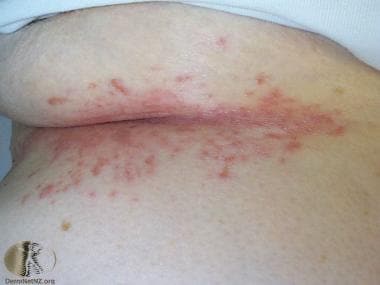 Intertrigo. Courtesy of DermNet New Zealand (http://www.dermnetnz.org/assets/Uploads/fungal/candida-intertrigo/1308.jpg).
---
Did this answer your question?
Additional feedback? (Optional)
Thank you for your feedback!