Answer
Secondary Lymphedema is caused by an acquired defect in the lymphatic system and is commonly associated with obesity, infection, neoplasm, trauma, and therapeutic modalities. It may also be associated with intravenous drug abuse. [24] Puffy hand syndrome is associated with lymphedema-cellulitis-venous thrombosis of the hand in intravenous drug abusers.
Filariasis
The most common cause of secondary lymphedema worldwide is filariasis, a disease caused by a mosquito-borne nematode infection with the parasite Wucheria bancrofti. Commonly occurring in developing countries around the world, this infection results in permanent lymphedema of the limb. [25, 26, 27] The major immunological feature of lymphatic filariasis appears to be an antigen-specific Th2 response, with an expansion of interleukin 10 secreting CD4+ T cells; such an immunological pattern involves a muted Th1 response. [28]
Malignancy and cancer treatment
In the industrialized world, the most common causes of secondary lymphedema are malignancy and its treatment. This means that the disease can arise from obstruction from metastatic cancer or primary lymphoma or can be secondary to radical lymph node dissection and excision.
Although lymphatics are thought to regenerate after transection via surgery, when combined with radiotherapy to the area, the risk of lymphedema increases because of scarring and fibrosis of the tissue. The most commonly affected area is the axillary region after mastectomy and radical dissection for breast cancer.
Lymphedema can also be seen after regional dissection of pelvic, para-aortic, and neck lymph nodes. Other associated neoplastic diseases are Hodgkin lymphoma, metastatic prostate cancer, cervical cancer, breast cancer, Kaposi sarcoma, and melanoma.
The concept of Ruocco's immunocompromised cutaneous district may explain the association of lymphedema with opportunistic infections, including viral warts, tumors (including angiosarcoma, basal cell carcinoma, squamous cell carcinoma, and sebaceous carcinoma), and immune reactions. [29, 30]
Other causes
Morbid obesity frequently causes impairment of lymphatic return and commonly results in lymphedema, as shown in the image below. This entity can be termed massive localized lymphedema [6, 7] or obesity-related lymphedema.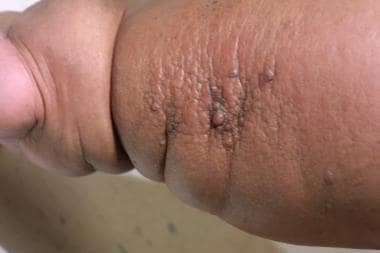 Morbidly obese patient with lymphedema.
Lymphedema is also associated with the following etiologies (see the image below):
---
Did this answer your question?
Additional feedback? (Optional)
Thank you for your feedback!