Answer
First described in detail by Henri Mondor in 1939, this condition is a rare entity characterized by a sclerosing thrombophlebitis of the subcutaneous veins of the anterior chest wall, as diagrammed in the image below. Fage in 1870 has been credited with delineating cording as a sign of superficial thrombophlebitis.}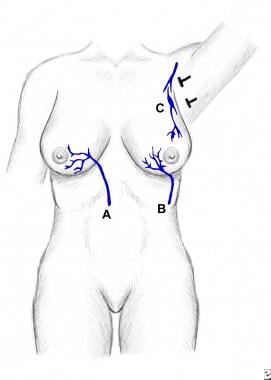 Illustration of the venous channels involved in Mondor disease. A is superior epigastric vein. B is thoracoepigastric vein. C is lateral thoracic vein.
The sudden appearance of a subcutaneous cord, which is initially red and tender and subsequently becomes a painless, tough, fibrous band that is accompanied by tension and skin retraction, is characteristic. The condition, though benign and self-limited, has been associated with breast cancer. It requires only symptomatic therapy. However, the physician must be aware of its existence to properly diagnose it and to rule out the presence of systemic disorders, especially breast cancer. [1]
Subcutaneous penile vein thrombosis (penile Mondor disease) has also been described. [2, 3] Its pathogenesis is unknown. It appears suddenly as almost painless indurations on the penile dorsal surface. Rarely, it may be evident as induration on the ventral penile aspect. [4] Similar cording may rarely occur in the groin, abdomen, arm, and axilla. [5] In the latter site, it has been termed the axillary web syndrome and may be evident after axillary lymph node dissection and sentinel lymph node biopsy.
A related article is Superficial Thrombophlebitis.
---
Did this answer your question?
Additional feedback? (Optional)
Thank you for your feedback!