Answer
Varicose veins and telangiectasia (spider veins) are the visible surface manifestations of an underlying problem with reverse venous flow, which is also termed venous insufficiency syndrome. Venous insufficiency syndromes describe venous blood deviating from a normal flow path and flow in a retrograde direction so that fluid accumulates, causing a "congested" leg.
Mild forms of venous insufficiency are merely uncomfortable, annoying, or cosmetically disfiguring, but severe venous disease can produce serious systemic consequences and can lead to loss of life or limb.
Most patients with venous insufficiency have subjective symptoms that may include pain, soreness, burning, aching, throbbing, cramping, muscle fatigue, and restless legs. Over time, chronic venous insufficiency leads to cutaneous and soft tissue breakdown that can be debilitating.
Chronic venous insufficiency eventually produces chronic skin and soft tissue changes that begin with mild swelling and then progress to include discoloration, inflammatory dermatitis, recurrent or chronic cellulitis, cutaneous infarction, ulceration, and even malignant degeneration. See the image below.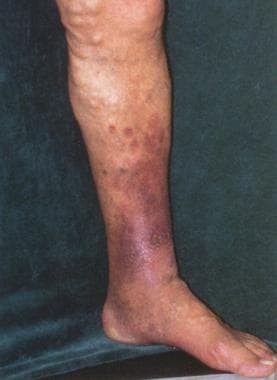 Patient with large tortuous varicose veins, high-volume venous reflux, and early stasis changes of the medial ankle.
Chronic nonhealing leg ulcers, bleeding from varicose veins, and recurrent phlebitis are serious problems that are caused by venous insufficiency and can be relieved by the correction of venous insufficiency. See the image below.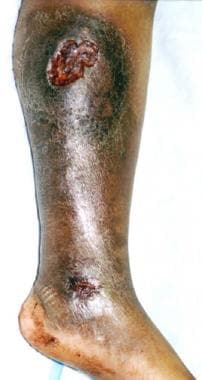 Typical chronic medial leg ulceration associated with long-standing venous insufficiency. The ulcer had been present for 12 years and was refractory to every treatment approach until treatment of the refluxing superficial varices was performed. Treatment consists of endovenous ablation, foam sclerotherapy, or ambulatory phlebectomy.
---
Did this answer your question?
Additional feedback? (Optional)
Thank you for your feedback!