Answer
Varicose veins and telangiectasia (spider veins) are the visible surface manifestations of an underlying problem with reverse venous flow, which is also termed venous insufficiency syndrome. Mild forms of venous insufficiency are merely uncomfortable, annoying, or cosmetically disfiguring, but severe venous disease can produce serious systemic consequences and can lead to loss of life or limb. See the image below.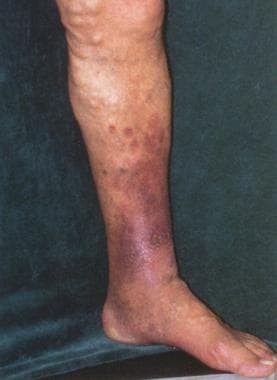 Patient with large tortuous varicose veins, high-volume venous reflux, and early stasis changes of the medial ankle.
See Superficial Venous Insufficiency: Varicose Veins and Venous Ulcers, a Critical Images slideshow, to help identify the common risk factors and features of this condition and its management options.
---
Did this answer your question?
Additional feedback? (Optional)
Thank you for your feedback!