Answer
For iliofemoral disease, the operation of choice is a saphenous vein crossover graft. In this procedure, the contralateral saphenous vein is mobilized and divided at its distal end, then tunneled suprapubically and anastomosed to the femoral vein on the diseased side (see the image below). The result is diversion of venous blood through the graft and into the intact contralateral venous system. Because of a relatively high failure rate (20%), ringed polytetrafluoroethylene (PTFE) grafts are used. Long-term patency has not been determined.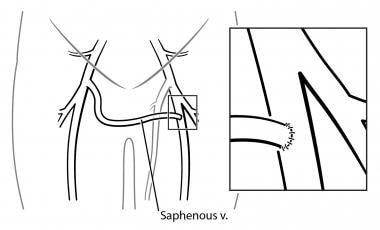 Venous insufficiency iliofemoral obstruction (Palma operation). Saphenous vein from contralateral leg tunneled subcutaneously to femoral vein of affected limb; cumulative patency of 75% at 5 years. Procedure relieves venous claudication but may not heal ulcers or relieve swelling.
---
Did this answer your question?
Additional feedback? (Optional)
Thank you for your feedback!