Answer
Normal veins are visibly distended at the foot and ankle and, occasionally, in the popliteal fossa; they usually are not visibly distended in the rest of the leg. Translucent skin may cause the normal veins to become visible in a bluish subdermal reticular pattern. A dilated vein above the ankle is usually evidence of venous pathology (see the image below).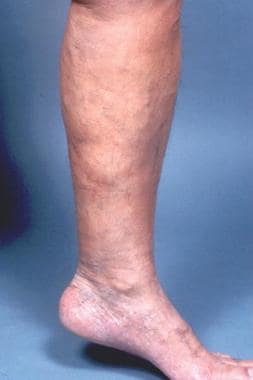 Perforator vein bulging into subcutaneous tissue.
---
Did this answer your question?
Additional feedback? (Optional)
Thank you for your feedback!