Answer
Darkened, discolored, and stained skin may be a sign of venous stasis, arterial insufficiency, chronic infection, prior injury, or various other conditions (see the image below). Such discoloration is particularly likely to be a sign of chronic venous stasis if it is localized along the medial part of the ankle or the medial aspect of the lower leg; these areas are especially prone to venous hypertension because their drainage largely depends on the competence and patency of the entire great saphenous vein (GSV) and all the attached perforating veins.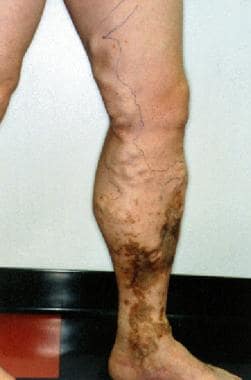 Superficial venous insufficiency with skin changes.
---
Did this answer your question?
Additional feedback? (Optional)
Thank you for your feedback!