Answer
Second, during normal ambulation, calf muscles decrease venous pressures by approximately 70% in the lower extremities (see the image below). With rest, pressures return to normal in approximately 30 seconds. In diseased veins, ambulation decreases venous pressures by only 20%. When ambulation is stopped, pressure in the vein lumen increases slowly, returning to normal over a period of minutes.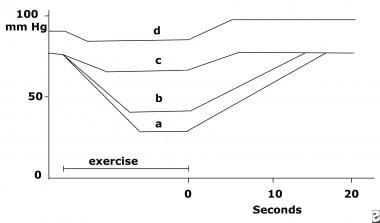 Hemodynamic charting of (a) healthy patients, (b) patients with only varicose veins, (c) patients with incompetent perforator veins, and (d) patients with deep and perforator incompetence.
---
Did this answer your question?
Additional feedback? (Optional)
Thank you for your feedback!