Answer
When the venous network is functioning correctly, every movement of the leg causes blood to be pumped inward and upward past a series of valves (see the image below). During ambulation, the normal pressure in the venous system of the lower leg is nearly zero. Immediately after ambulation, the early standing pressure in the normal leg remains low. Arterial inflow fills the leg veins slowly, and the only source of venous pressure is the hydrostatic pressure of a column of blood as high as the nearest competent valve.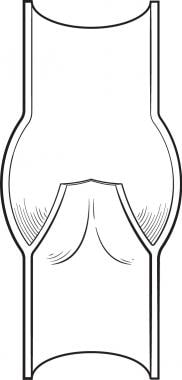 Venous valve. Thrombosis can begin as blood flow becomes turbulent, permitting platelets to remain in valve sinus. This forms nidus of thrombus.
---
Did this answer your question?
Additional feedback? (Optional)
Thank you for your feedback!