Answer
In venous insufficiency states, venous blood escapes from its normal antegrade path of flow and refluxes backward down the veins into an already congested leg. Venous insufficiency syndromes are most commonly caused by valvular incompetence in the low-pressure superficial venous system (see the image below) but may also be caused by valvular incompetence in the high-pressure deep venous system (or, rarely, both). In addition, they may result from the congenital absence of venous valves.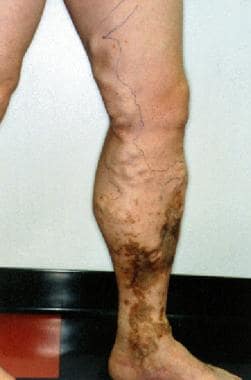 Superficial venous insufficiency with skin changes.
See Superficial Venous Insufficiency: Varicose Veins and Venous Ulcers, a Critical Images slideshow, to help identify the common risk factors and features of this condition and its management options.
---
Did this answer your question?
Additional feedback? (Optional)
Thank you for your feedback!