Answer
Stasis dermatitis is caused by venous hypertension resulting from retrograde flow related to incompetent venous valves, valve destruction, or obstruction of the venous system. The ensuing inflammatory process is mediated by metalloproteinases, which are up-regulated by ferric ion from extravasated red blood. [2]
Stasis dermatitis occurs as a direct consequence of venous insufficiency. Disturbed function of the 1-way valvular system in the deep venous plexus of the legs results in a backflow of blood from the deep venous system to the superficial venous system, with accompanying venous hypertension. This loss of valvular function can result from an age-related decrease in valve competency. [3]
Alternatively, specific events, such as deep venous thrombosis, surgery (eg, vein stripping, total knee arthroplasty, harvesting of saphenous veins for coronary bypass), or traumatic injury, can severely damage the function of the lower-extremity venous system. (See the image below.)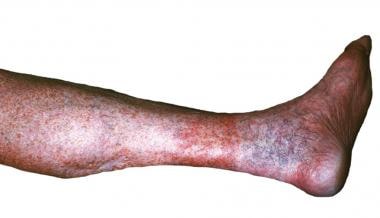 Patient with stasis dermatitis. The large scar on the calf resulted from military shrapnel. Injuries to the venous system due to trauma or surgery are common factors in the development of stasis dermatitis.
---
Did this answer your question?
Additional feedback? (Optional)
Thank you for your feedback!