Answer
The typical solitary pyogenic granuloma (lobular capillary hemangioma) is a bright red, friable polypoid papule or nodule ranging from a few millimeters to several centimeters. The average size is 6.5 mm [13] , though a 25-cm giant pyogenic granuloma has been reported at the site of a scar in an HIV-positive patient. [48] The classic exophytic raspberrylike lesion has a moist surface and an epithelial collarette at the base. Bleeding, erosion, ulceration, purulence, and crusting frequently are noted. Regressing lesions appear as a soft fibroma.
The head and neck, trunk, and distal extremities (especially the fingers) are sites of predilection, but lesions occur anywhere on the integument, including the genitalia. Oral lesions are most common on the gingiva, lips, and tongue. [15]
Note the images below.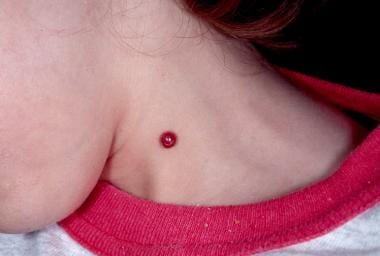 Pyogenic granuloma on the neck of the young girl. Courtesy of Jeffrey P. Callen, MD.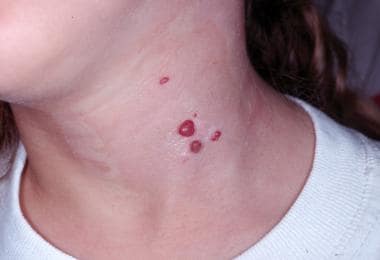 Multiple recurrent pyogenic granulomas on the neck of a young girl. Courtesy of Jeffrey P. Callen, MD.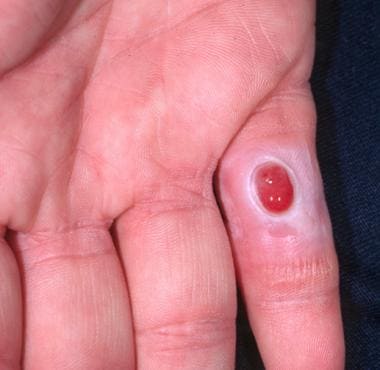 Pyogenic granuloma on the hand. Courtesy of Jeffrey P. Callen, MD.
The pregnancy tumor variant of pyogenic granuloma most frequently is found along the maxillary intraoral mucosal surface, but any intraoral, perioral, and nonoral tissue may be involved.
Pyogenic granuloma with satellitosis, [49] a subcutaneous subtype, [50] a linear presentation, [51] and a disseminated variant [44] have been described. The majority of satellites occur on the trunk, often around the scapula. The subcutaneous subtype of pyogenic granuloma is commonly found on the upper extremity.
A rare intravenous pyogenic granuloma variant [52] may present as a vascular polyp on the neck or upper extremities.
---
Did this answer your question?
Additional feedback? (Optional)
Thank you for your feedback!