Answer
The hallmark of a pigmented purpuric dermatosis is its characteristic orange-brown, speckled, cayenne pepper–like discoloration. The lower limbs are affected in Schamberg disease, whereas itching purpura is characterized by more generalized skin involvement.
In lichen aureus, the eruption is usually a solitary lesion or a localized group of golden brown lesions that may affect any part of the body; however, the leg is the most commonly affected area. Linear or segmental forms of lichen aureus have been reported.
Majocchi disease is characterized by small annular plaques of purpura that contain prominent telangiectasias.
Pigmented purpura with lichenoid-type skin change is yet another clinical variant, which Gougerot and Blum first reported. Lesions appear similar to those of Schamberg disease in association with red-brown lichenoid papules.
Note the clinical images below.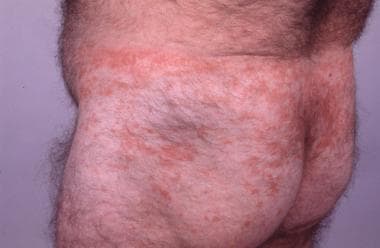 Pigmented purpuric dermatitis affecting the trunk. Some of the lesions show the characteristic orange-brown, speckled, cayenne pepper–like discoloration that is the hallmark clinical sign of a capillaritis. Men are more frequently affected than women. If the lesions are pruritic, then the term itching purpura is sometimes used. Early cutaneous T-cell lymphoma, purpuric clothing contact dermatitis, and drug hypersensitivity reactions should be considered in the differential diagnosis.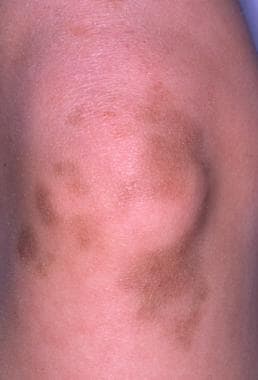 Lichen aureus is the name given to localized pigmented purpuric dermatitis or capillaritis. In this patient, the skin on the extensor surface of the elbow is affected.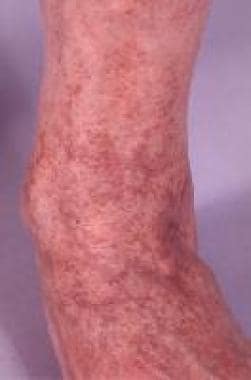 Capillaritis affecting the lower legs is known as Schamberg disease. In Schamberg disease, irregular plaques and patches of orange-brown pigmentation develop on the lower limbs.
---
Did this answer your question?
Additional feedback? (Optional)
Thank you for your feedback!