Answer
Kaposi sarcoma (KS) tends to demonstrate increased spindle cells with vascular slits and vascular structures with a predominance of endothelial cells. Extravasated erythrocytes and hemosiderin-laden macrophages often are evident. Some spindle cells may show nuclear pleomorphism. Early Kaposi sarcoma may resemble granulation tissue with a diffuse chronic inflammatory infiltrate and capillaries dilated and increased in number. This pattern also is seen in lymph nodes and viscera.
Histopathologic classification is based on relative contribution of spindle cells, fibrosis, and nuclear pleomorphism, sometimes divided into 3 histopathologic forms, which include (1) a mixed form with an equal amount of spindle cells, vascular clefts, and capillaries, (2) a mononuclear type with 1 cell type predominating, and (3) an anaplastic form with cellular pleomorphism and numerous mitotic figures. In 2007, intravascular Kaposi sarcoma was recognized as a morphological variant of Kaposi sarcoma that seems to be unassociated with an increased risk of aggressive behavior. [58]
Cutaneous Kaposi sarcoma probably evolves through the early inflammatory or patch stage, progresses to the nodular stage, and then, to the late proliferative or plaque stage. The authors believe that the glomeruluslike vascular formations in early patch stage Kaposi sarcoma and in some later lesions may reflect the histogenesis of Kaposi sarcoma. The late plaque stage shows diffuse involvement of the dermis, exhibiting the histologic features of the nodular stage. The lesions may resolve, with involution of the vascular components and formation of scar tissue, or, occasionally, they become extremely pleomorphic and invade deeper tissues. Histologic variants have been recently emphasized. [59] The angiomatous variant demonstrates neoplastic vessel staining with podoplanin, which is not noted with preexisting vessels. [60]
Kaposi sarcoma specimens may be stained for iron and HHV-8. [61] Iron staining of dermal tissue may suggest Kaposi sarcoma. Immunohistochemical stains for HHV-8 should be positive in most typical Kaposi sarcoma. Iron staining and immunohistochemical HHV-8 staining in combination may be reliable markers for Kaposi sarcoma compared with interstitial granuloma annulare.
The lymphadenopathy in Kaposi sarcoma may show marked follicular hyperplasia and hypervascularity, nonspecific inflammation in regional lymph nodes that drain ulcerated Kaposi sarcoma, and lymphomas or actual lymph node Kaposi sarcoma, with or without cutaneous involvement. More than 1 of these processes may be evident in the same node. The authors view localized lymphadenopathic Kaposi sarcoma as a type of localized nodular Kaposi sarcoma. Kaposi sarcoma in nodes shows the typical proliferation of spindle cells separated by slitlike spaces containing red blood cells and is accompanied by marked follicular hyperplasia and plasmacytic infiltration. The earliest changes occur in the subcapsular and trabecular sinuses, with extension into the entire node and, later, the perinodal tissues. Kaposi sarcoma of lymph nodes may be localized or generalized. The lymphocytic, plasmacytic, and immunoblastic proliferation may simulate a lymphoma.
The electron microscopy and immunohistochemical features of Kaposi sarcoma may be important. Staining with CD34, factor VIII–related antigen, the lectin Ulex europaeus I, and HLA-DR antigen may be useful to support or confirm the diagnosis of Kaposi sarcoma. The authors prefer CD34 antigen, which is expressed by Kaposi sarcoma cells, and find it helpful in distinguishing Kaposi sarcoma from pseudo-Kaposi sarcoma (acroangiodermatitis).
See the images below.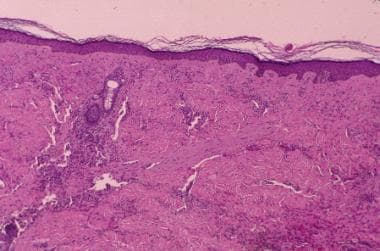 Intermediate lesion showing moderately enlarged spindle cells, some of which line poorly formed blood vessels that open into the interstitium with extravasation of erythrocytes. Erythrophagocytosis by these spindle cells is noted in places (hematoxylin and eosin, magnification X80).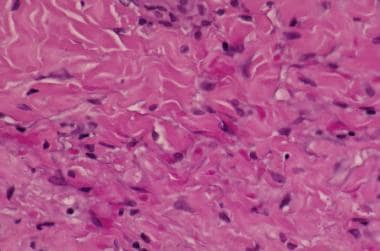 Early lesion showing increased cellularity of the dermis with slightly enlarged spindle cells of focally fine stellate blood vessels that open at their corners into the interstitium (hematoxylin and eosin, magnification X40).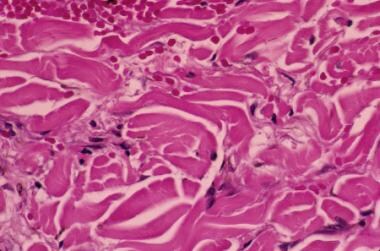 Keloidal Kaposi sarcoma demonstrating features both of keloids and Kaposi sarcoma (hematoxylin and eosin, magnification X80).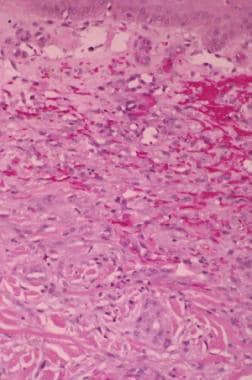 Late lesion showing masses of moderately atypical spindle cells in a haphazard array, some of which line poorly formed blood vessels. Many of the spindle cells show erythrophagocytosis (hematoxylin and eosin, magnification X40).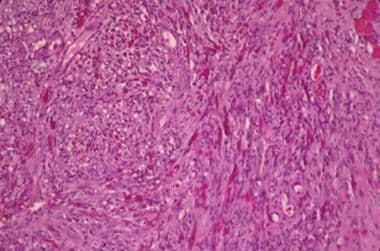 Late lesion showing atypical spindle cells, some of which are lining poorly formed blood vessels, with prominent erythrophagocytosis by the cells (hematoxylin and eosin, magnification X80).
Oral Kaposi sarcoma biopsy specimens from 135 cases were placed into 1 of 7 categories based on the predominant pattern of growth [62] : solid, lymphangiomalike, telangiectatic, desmoplastic, lymphangiectatic, ecchymotic, and anaplastic. Some had coexistent pathology, mainly superimposed candidiasis, but also a few had cytomegalovirus and nonnecrotizing granulomatous inflammation. With oral Kaposi sarcoma, some believe that HHV-8 immunohistochemistry is strongly advisable to confirm the diagnosis, although obtaining this immunohistochemistry study may be a challenge in resource-poor countries. [63]
---
Did this answer your question?
Additional feedback? (Optional)
Thank you for your feedback!