Answer
Kaposi sarcoma (KS) is described in 3 forms including localized nodular, locally aggressive, and generalized Kaposi sarcoma. Kaposi sarcoma typically occurs in these 3 forms and in 6 stages including patch, plaque, nodular, exophytic, infiltrative, and lymphadenopathic.
Cutaneous Kaposi sarcoma usually begins as discrete red or purple patches that are bilaterally symmetric and initially tend to involve the lower extremities.
Patches become elevated, evolving into nodules and plaques.
Nodules may be spongy to the touch and show on dermatoscopic examination a bluish-red coloration with a rainbow pattern. [43] A homogeneous or structured vascular pattern is evident in most nodular Kaposi sarcoma.
See the images below.
Kaposi sarcoma also occurs as a large infiltrating mass or as multiple cone-shaped friable tumors. These 2 variants, termed locally aggressive Kaposi sarcoma, may adhere firmly to underlying anatomic structures including bone. Rarely, Kaposi sarcoma may resemble pyogenic granuloma clinically. [44, 45]
See the images below.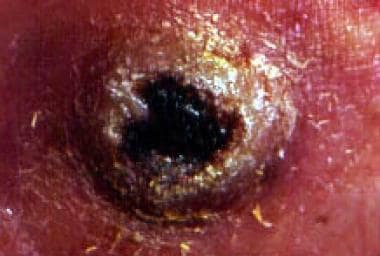 A 35-year-old man with dome-shaped locally aggressive tumors, an example of exophytic Kaposi sarcoma with cavernous hemangiomalike histology.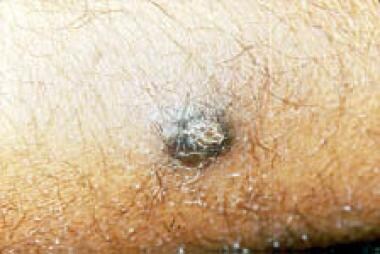 Elderly man of Mediterranean lineage with hyperkeratotic nodule of Kaposi sarcoma on sole of foot.
Early Kaposi sarcoma may appear as violaceous patches (patch stage Kaposi sarcoma), which occasionally resemble large junctional melanocytic nevi or may appear as irregular-shaped patches similar to the nevus flammeus.
More commonly, Kaposi sarcoma is evident as violaceous plaques or nodules on the lower extremities. The nodules tend to enlarge into dome-shaped tumors.
Cutaneous Kaposi sarcoma rarely may be infiltrative or exophytic. To the authors' knowledge, infiltrative Kaposi sarcoma has not been described outside of Africa. Exophytic Kaposi sarcoma may erode downward into bone.
Although rare, isolated osseous Kaposi sarcoma with osteolytic bone changes has been described. [46]
Lymphadenopathic Kaposi sarcoma may demonstrate skin lesions.
At times, a Köbner phenomenon appears evident, with nodules at sites of trauma.
A few unusual varieties of Kaposi sarcoma also exist.
Telangiectatic Kaposi sarcoma is an eruption of pink translucent nodules with prominent telangiectasia.
Ecchymotic Kaposi sarcoma appears as periorbital ecchymoses. Histologically, there is a large amount of extravasated red blood cells, no evidence of amyloidosis, and a dermis containing foci of proliferating moderately atypical spindle cells, vascular slits, erythrophagocytosis, and other features of Kaposi sarcoma. On the trunk, lesions often follow skin tension lines.
See the image below.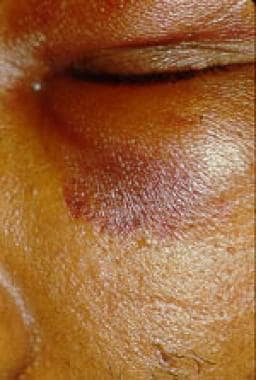 Ecchymotic Kaposi sarcoma in a man who is homosexual.
Keloidal Kaposi sarcoma is evident as somewhat brown-to-violaceous keloidal nodules. Histologically, these are Kaposi sarcoma nodules with a keloidal component.
Cavernous Kaposi sarcoma is a rare type of locally aggressive Kaposi sarcoma characterized by cutaneous tumors that histologically resemble cavernous hemangiomas; however, the endothelial cells and their nuclei are large and prominent, bulging into the cavity.
Lymphangiomalike Kaposi sarcoma is a rare variant in which dilated vascular spaces produce a bullous-appearing eruption, typically on the lower legs. The lesions are easily compressible and appear clinically to be fluid-filled. The vascular channels are lined by banal-appearing endothelial cells permeating the dermis in the absence of spindle cell proliferation.
Occasionally, Kaposi sarcoma may be first evident as a cutaneous horn. [47]
---
Did this answer your question?
Additional feedback? (Optional)
Thank you for your feedback!