Answer
Kaposi sarcoma (KS) is a neoplasm that often manifests with multiple vascular nodules in the skin and other organs.
Although true metastases appear to occur, a multifocal origin is most common.
The pattern of Kaposi sarcoma is variable, with a course ranging from indolent (only skin manifestations) to fulminant (extensive visceral involvement).
Kaposi sarcoma also may arise primarily in the oral mucosa, lymph nodes, and/or viscera without skin involvement. See the image below.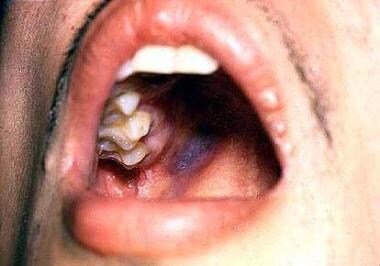 Oral Kaposi sarcoma.
Kaposi sarcoma initially may be evident in any organ of the body.
Chronic lymphedema may precede Kaposi sarcoma.
Professor Ruocco's term isotopic response applies to the occurrence of Kaposi sarcoma with new cutaneous nodules at the site of other, unrelated, and already healed skin diseases. [37]
Although primary penile Kaposi sarcoma is uncommon in HIV negative men, one should consider this possibility when treating nonspecific penile lesions. [38] A minimal penile lesion with nondistinctive clinical features may be the exclusive manifestation of Kaposi sarcoma. In addition, it may appear as a skin-colored nodule suggestive of a primary squamous cell carcinoma. [39] Clearly, in both cases, histologic evaluation is mandated to establish the diagnosis. Disseminated Kaposi sarcoma may also involve the penis. [40]
Vitiligo and other autoimmune disorders are sometimes evident in patients with AIDS Kaposi sarcoma. Rarely, vitiligo has been observed developing around nodules of Kaposi sarcoma. [41]
---
Did this answer your question?
Additional feedback? (Optional)
Thank you for your feedback!