Answer
Eighty percent of infantile hemangiomas are focal and solitary. Sixty percent of cutaneous hemangiomas occur on the head and neck, 25% on the trunk, and 15% on the extremities (see image below). Hemangiomas also can occur in extracutaneous sites, including the liver, gastrointestinal tract, larynx, CNS, pancreas, gall bladder, thymus, spleen, lymph nodes, lung, urinary bladder, and adrenal glands.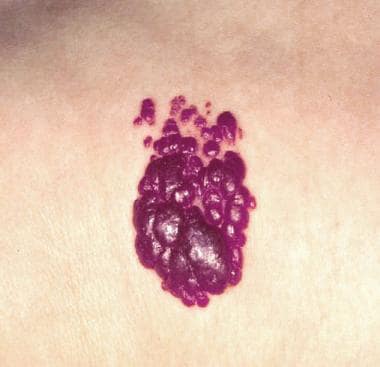 This proliferating superficial infantile hemangioma on the trunk required no therapy.
Features of early proliferating superficial infantile hemangiomas (birth to age 6 wk) include blanching of the involved skin, followed by fine telangiectasias, and then a red or crimson macule or papule that often is surrounded by a faint halo of vascular blanching. Occasionally, an infantile hemangioma is heralded by a shallow ulceration, especially lip and buttock lesions (see image below). [31]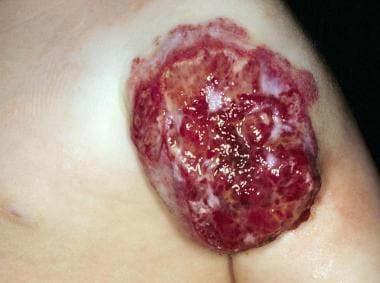 Exquisitely painful ulcerated mixed hemangioma (superficial and deep) of the left deltoid in a 6-month-old female infant. This lesion was treated successfully with pulsed dye laser.
As infantile hemangiomas proliferate (birth to age 12 mo), depending on their size and depth, their morphology and texture may be dome shaped, bosselated, plaquelike, tumoral, or any combination of these morphologies.
If the infantile hemangioma is located in the subcutaneous tissue, the overlying skin may be completely normal. Color varies with the depth from the surface and can be bright red or crimson (superficial dermis), purple, blue, or flesh colored with predominant involvement of the deeper tissues. Telangiectases and large superficial veins radiating from the infantile hemangioma often are associated. The consistency is firm, rubbery, and tense and expands with increased intravascular pressure (eg, with crying when on the head and neck). Tenderness to palpation is a variable generally uncommon feature of infantile hemangiomas.
Most infantile hemangiomas reach a maximum size of 0.5-5 cm, but they can range from the size of a pinhead to greater than 20 cm in diameter. Most infantile hemangiomas remain well circumscribed and focal. A minority may be segmental in nature, covering a larger portion of the cutaneous surface. This variant has more superficial than deep involvement, as is seen with extensive facial lesions (see image below).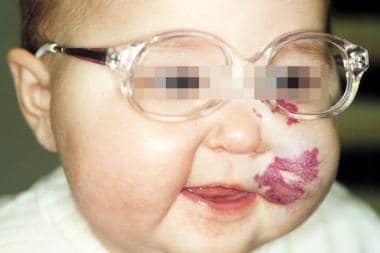 This superficial and deep infantile hemangioma resulted in astigmatism of the left eye, requiring spectacles to correct the refractive error and to prevent amblyopia. Further growth of this hemangioma necessitated a course of oral prednisolone. The hemangioma shrunk rapidly, and the patient's astigmatism decreased such that the spectacles were unnecessary 1 month after beginning steroids.
---
Did this answer your question?
Additional feedback? (Optional)
Thank you for your feedback!