Answer
Most infantile hemangiomas are benign and do not cause any morbidity or mortality. Occasionally, they may impinge on vital structures and interfere with breathing, vision, eating, or hearing. Ulceration of certain areas (eg, diaper area, neck, mucosal surfaces) is not uncommon. Excessive bleeding is infrequent and rarely, if ever, life threatening. In the past, infantile hemangiomas were confused with other vascular neoplasms, particularly kaposiform hemangioendothelioma and tufted angiomas, which can incite a consumptive coagulopathy that may be life threatening. This is referred to as Kasabach-Merritt phenomenon (KMP). Infantile hemangiomas are not responsible for KMP. [35, 36]
Large cutaneous or visceral hemangiomas (particularly liver) can result in high-output cardiac failure resulting from increased vascular flow. Permanent significant structural abnormalities may result, particularly when facial structures are involved. The highest risk appears to be with involvement of the nasal tip, lips, and ears. [37] Segmental hemangiomas, which cover a particular section or area of skin, may be markers for underlying malformations or developmental anomalies of the heart, blood vessels, or nervous system (PHACE and PELVIS syndromes [see below] and lumbosacral hemangiomas) and, depending on the severity of the associated anomaly, can result in increased morbidity or mortality. [38, 39]
PHACE syndrome (see image below) is a multiple-congenital-anomaly syndrome composed of posterior fossa structural brain abnormalities (Dandy-Walker malformation and various forms of hypoplasia); hemangiomas of the face, head, and neck (segmental, >5 cm in diameter); arterial lesions (especially carotid, cerebral, and vertebral); cardiac anomalies (coarctation of the aorta in addition to many other structural anomalies); eye abnormalities; and, rarely, associated midline ventral defects such as sternal cleft or supraumbilical raphe). A consensus statement with detailed diagnostic criteria for both PHACE and possible PHACE syndromes was published in 2009. [40]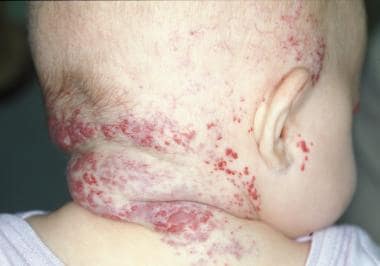 Segmental infantile hemangioma in a female infant with PHACE syndrome involving the posterior neck and right forehead associated with an absent right vertebral artery and a laryngeal hemangioma.
PELVIS (or SACRAL) syndrome (see image below) is perineal hemangioma with any of the following: external genital malformations, lipomyelomeningocele, vesicorenal abnormalities, imperforate anus, and/or skin tags.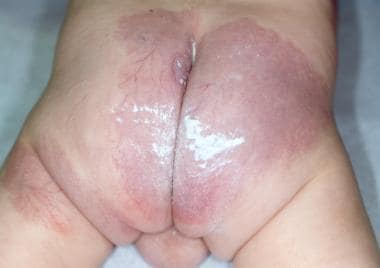 Segmental infantile hemangioma with minimal or arrested growth of the bilateral buttocks and posterior thigh in this male infant with PELVIS syndrome (complicated by cutaneous ulceration, hypospadias, anal stenosis, intraspinal lipoma with tethered cord). The white material is a barrier diaper cream.
---
Did this answer your question?
Additional feedback? (Optional)
Thank you for your feedback!