Answer
Infantile hemangiomas are composed of proliferating, plump endothelial cells. Early in proliferation, the cells are in disarray, but, with time, they form vascular spaces and channels replete with blood cells (see image below).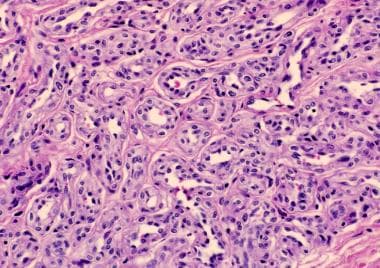 Histopathology of a proliferating infantile hemangioma with plump endothelial cells in the dermis.
These benign-appearing endothelial cells produce limited basement membrane structures. Hemangiomas assume a lobular architecture as proliferation slows and ends. Mast cells appear to affect this process and are implicated in the promotion of feeding arterioles and veins that supply each lobule. They also have been found in high concentrations during involution.
Takahashi hypothesized that during the third trimester of fetal development, immature endothelial cells coexist with immature pericytes, which maintain their proliferative capacity for a limited period during postnatal life. [9] Angiogenic peptides, such as beta-fibroblast growth factor, vascular endothelial growth factor (VEGF), and proliferating cell nuclear antigen, induce proliferation of these immature cells, resulting in the development of the hemangioma. As the endothelial cells differentiate, an influx of mast cells, various myeloid cells, and tissue inhibitors of metalloproteinases (TIMPs) occurs. [15] TIMPs, along with interferon and transforming growth factor produced by the mast cells, terminate the endothelial cell proliferation and passively induce involution by senescence of endothelial cells.
---
Did this answer your question?
Additional feedback? (Optional)
Thank you for your feedback!