Answer
Pertinent physical findings are limited to the skin and joints.
Primary skin lesions
Lesions begin as red tender nodules (see the image below). Lesion borders are poorly defined, and lesions vary from 2-6 cm. During the first week, lesions become tense, hard, and painful; during the second week, they may become fluctuant, as in an abscess, but do not suppurate or ulcerate. Individual lesions last approximately 2 weeks, but occasionally, new lesions continue to appear for 3-6 weeks. Aching legs and swelling ankles may persist for weeks.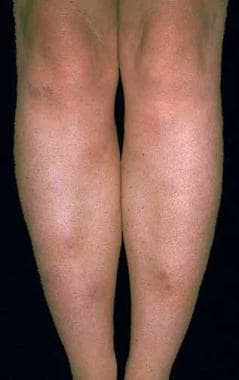 Classic presentation of erythema nodosum with nodular red swellings over the shins.
---
Did this answer your question?
Additional feedback? (Optional)
Thank you for your feedback!