Answer
The mucocele and the oral ranula have a well-delineated cavity that contains free mucinous material; this material is characteristic of these entities. The cavity wall lacks an epithelial lining and is considered a pseudocyst. The pseudocyst wall is composed of granulation tissue with fibroblasts, proliferating small-caliber vessels, and a mixed acute and chronic inflammatory reaction. Muciphages are usually present in the fibroconnective wall of the pseudocyst. The muciphage cells may be demonstrated by using mucicarmine staining. [35]
The cyst wall also has free mucin in the connective tissue stroma. The adjacent salivary gland tissue possesses dilated ducts, fibrosis, acinar atrophy, and chronic inflammation. Occasionally, a ruptured salivary duct that is feeding into the area may be identified. The mucosal surface may be atrophic with focal ulceration, or it may show epithelial hyperplasia with hyperkeratosis. Special stains, mucicarmine and Alcian blue, are useful in identifying mucin that is free in the tissue or in the foamy macrophages. Unusual variants include mucoceles with myxoglobulosis and papillary synovial metaplasia–like change. [19]
Extravasation of mucin along the mucosal-submucosal interface characterizes the superficial mucocele. The extravasation results in separation of the epithelium from its underlying submucosa and the formation of a subepithelial mucus-filled vesicle. A mild-to-moderate chronic inflammatory cell infiltration is observed in the underlying connective tissue, along with excretory ducts that may demonstrate ductal dilatation.
The cervical ranula appears identical to the mucus extravasation phenomenon. Biopsy of the lateral part of the neck may reveal only amorphous material with rare inflammatory cells, which stains positive for mucin.
The mucus retention cyst is a true cystic entity. It usually demonstrates a unicystic pattern; rarely, a multicystic appearance is identified. The cystic lining is composed of primarily cuboidal to columnar cells; however, mucous cells and squamous cells may be interspersed. Occasionally, oncocytoid and papillary changes of the epithelium lining are found. Typically, free mucin fills the central cavity, but mucus plugs and concentric layers of acellular calcification (sialolith) may be present. The cyst wall is composed of connective tissue with minimal inflammation, and it lacks the granular appearance of the mucus extravasation phenomenon. Atrophic sialadenitis with fibrosis and ductal ectasia may be found in the surrounding tissues.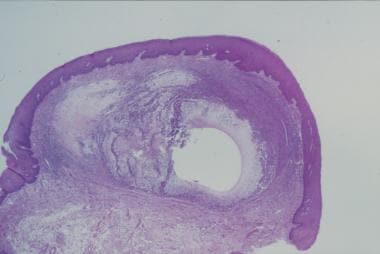 Low-power photomicrograph of a mucocele with attenuation of the mucosal surface and pooling of mucus (hematoxylin-eosin, original magnification X40).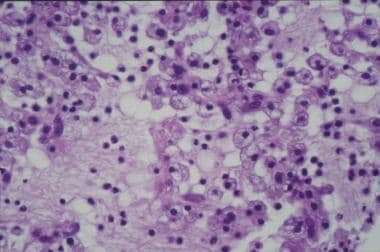 High-power photomicrograph of a mucocele with pooling of mucus and numerous foamy histiocytes (hematoxylin-eosin, original magnification X400).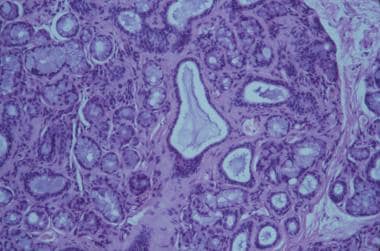 Intermediate-power photomicrograph of an affected minor salivary gland lobule with atrophy of the acinar structures, ductal ectasia, and fibrosis (hematoxylin-eosin, original magnification X100).
---
Did this answer your question?
Additional feedback? (Optional)
Thank you for your feedback!