Answer
The oral ranula is a relatively large unilateral blue to translucent mass in the floor of the mouth that remotely resembles the belly of a frog (Rana species). The lesion may cross the midline when especially large, making the offending salivary gland difficult to localize. Large oral ranulas superiorly and medially displace the tongue. The consistency of the lesion is that of mucus, and the lesion does not blanch on compression. If the mass is located in the deeper aspect of the floor of the mouth, it loses its bluish translucent color. Ranulas arise primarily from the sublingual gland and, infrequently, from the minor salivary glands and only rarely from the submandibular gland.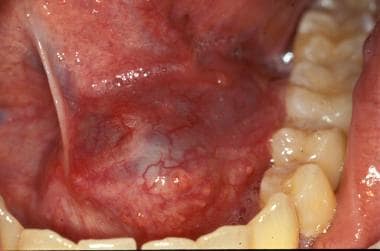 Unilateral oral ranula in a young adult manifesting as a purple swelling.
The cervical ranula appears as an asymptomatic, continuously enlarging mass that may fluctuate in size. The overlying skin is usually intact. The mass is fluctuant, freely movable, and nontender. The mass is not associated with the thyroid gland or lymph node chains. In some instances, detecting salivary gland herniation of a portion of the sublingual gland through the mylohyoid muscle into the neck may be possible. The mass may not be well defined but follows the fascial planes of the neck and may extend into the mediastinum. Similar to the oral ranula, the mass tends to cause a lateral swelling; however, it may cross the midline.
The mucus retention cyst has a presentation similar to that of a mucocele and a ranula, except that it does not fluctuate in size. The fluid-filled lesions tend to slowly enlarge with well-defined margins that are freely movable. The dome-shaped nodule has a smooth intact surface that imparts a pink, yellow, blue, or red color. The oral floor is the primary site, especially in the area of the orifices of the Wharton's duct and the caruncles, followed by the buccal mucosa. The lesions are usually 5-15 mm in diameter, but they may be much larger when they involve the sublingual or submandibular gland.
---
Did this answer your question?
Additional feedback? (Optional)
Thank you for your feedback!