Answer
The clinical features associated with mucoceles include a nontender, mobile, dome-shaped enlargement with intact epithelium that lies over it. Superficial lesions take on a bluish to translucent hue, whereas deep lesions have normal mucosal coloration. Bleeding into the swelling may impart a bright red and vascular appearance. The mucosa lining is usually intact; however, repeated sucking on the lesion may result in a white, rough, keratotic surface. Occasionally, a punctate sinus tract is observed from which mucoid material is expressed. Palpation reveals a fluctuant mass that does not blanch on compression. An inflammatory response is usually not detected at clinical examination unless it has been irritated recently.
Most are less than 1 cm in diameter but range from 0.1-4 cm in size. Although the mucocele can occur anywhere in the oral cavity where minor salivary glands are present, a large consecutive case review from an oral pathology laboratory service reported the following sites in descending order: lower labial mucosa, 81.9%; floor of mouth, 5.8%; ventral tongue, 5%; buccal mucosa, 4.8%; palate, 1.3%; and retromolar area, 0.5%. [19]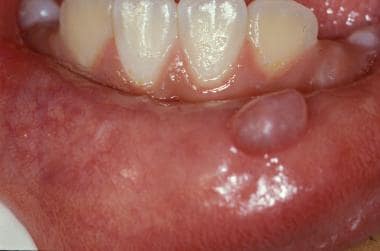 Classic example of a mucocele in a child. The fluctuant, translucent-blue nodule on the lower labial mucosa has been present for 6 weeks. Trauma from sucking on the lower lip was suspected to be the cause.
The Blandin and Nuhn mucocele occurs exclusively on the anterior ventral surface of the tongue at the midline. Although the lesions may have clinical features similar to those of the mucocele, which is found elsewhere, they tend to be more polypoid with a pedunculated base. Because of repeated trauma against the lower teeth, the surface may be red and granular or white and keratotic.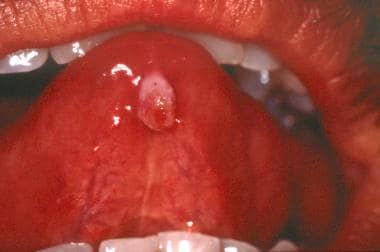 Mucocele on the midline ventral surface of the tongue involving the glands of Blandin and Nuhn.
Superficial mucoceles appear as single or multiple tense vesicles with intact delicate mucosa. They are transparent, mucous filled, and dome shaped. The lesions tend to persist for several days, rupture spontaneously, and heal a few days after they rupture. Usually, only mild discomfort occurs, but some cases are painful. Concurrent lichenoid disorders have been reported. [20] Superficial mucoceles are typically 1-4 mm in diameter.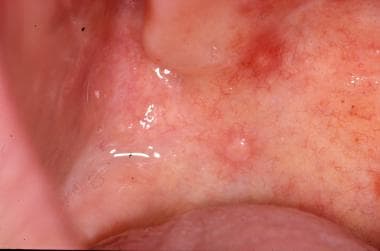 Example of 2 superficial mucoceles of the soft palate in a 50-year-old woman. The red lesion represents a recently ruptured mucocele, and the translucent papular lesion represents an intact mucocele.
---
Did this answer your question?
Additional feedback? (Optional)
Thank you for your feedback!