Answer
Cervical ranulas are usually associated with a discontinuity of the mylohyoid muscle. The mylohyoid muscle is regarded as the diaphragm of the floor of the mouth; however, it is not a strict anatomical barrier from entry into the neck. A dehiscence or hiatus in the mylohyoid muscle has been noted in 36-45% of individuals in cadaver studies. This defect is observed along the lateral aspect of the anterior two thirds of the muscle. Projections of sublingual glandular tissue or ectopic glandular tissue may also extend into the neck; these projections facilitate cervical ranula formation. Approximately 45% of plunging ranulas occur after surgery to remove oral ranulas.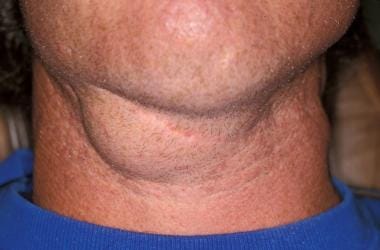 Example of a cervical ranula with no oral involvement in an adult. The swelling developed after a car accident in which the individual had trauma to the face and neck.
An obstruction of the excretory duct, with pooling and dilatation of the affected duct, causes the mucus retention cyst. A mucus plug appears to be the cause in most instances, although a sialolith accounts for some of these cysts.
---
Did this answer your question?
Additional feedback? (Optional)
Thank you for your feedback!