Answer
Cheilitis granulomatosa (or granulomatous cheilitis) is characterized by persistent idiopathic swelling of the lip due to granulomatous inflammation. It is thought to be a subset of orofacial granulomatosa and is frequently used in the literature to describe the monosymptomatic presentation of Miescher cheilitis. [1, 2, 3, 4, 5]
Orofacial granulomatosis (OFG) represents a spectrum of disease characterized by granulomatous inflammation of the oral and maxillofacial region in the absence of systemic disease like Crohn disease. [1, 2, 5, 6] It is rare for patients to progress to symptoms of Crohn disease. [7, 8]
Miescher-Melkersson-Rosenthal syndrome is the term used when the cheilitis occurs as part of a symptomatic triad including facial palsy and plicated (fissured) tongue.
Miescher cheilitis is a term sometimes used when the granulomatous changes are confined to the lip. Miescher cheilitis is generally regarded as a monosymptomatic form of Miescher-Melkersson-Rosenthal syndrome. See the image below.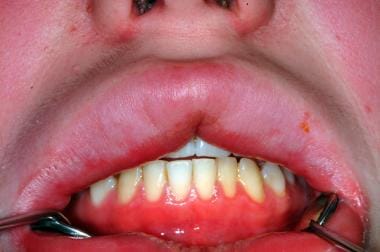 Orofacial granulomatosis in a patient with Crohn disease showing showing lip and gingival swelling.
---
Did this answer your question?
Additional feedback? (Optional)
Thank you for your feedback!