Answer
This is a subset of erythematous candidiasis. Lesions affect the angles of the mouth, causing soreness, erythema, and fissuring. Both yeasts (candidal) and bacteria (especially Staphylococcus aureus) may be involved.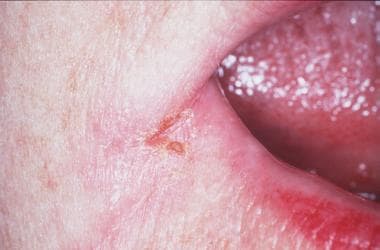 Angular cheilitis; a common form of oral candidiasis, typically seen in patients with denture-related stomatitis, especially those in whom the denture needs adjustment. In others, it may be a sign of diabetes, nutritional deficiency, or immune defect.
Angular cheilitis is not specific for mucosal candidiasis. It can also be seen with vitamin B-12 or iron deficiency, Down syndrome, orofacial granulomatosis, Crohn disease, HIV infection, or diabetes.
---
Did this answer your question?
Additional feedback? (Optional)
Thank you for your feedback!