Answer
The draining sinus is a malevolent lesion usually seen in severe forms of acne, such as acne conglobata, acne fulminans, and acne inversa.
In patients with acne conglobata and sacroiliitis, acute anterior uveitis may occur.
The nodules associated with acne conglobata are succulent, tender, and dome shaped. Characteristic nodules increase in size; break down to discharge pus; and often fuse, forming unusual shapes of several centimeters. The formation of nodules begins in early puberty; the severity increases until late adolescence and often beyond. Active nodule formation may persist for years and usually continues until the fourth decade of life. See the image below.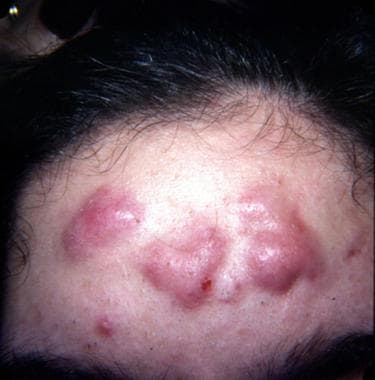 A close-up view of nodules and pustules on the forehead. Courtesy of Emanuel G. Kuflik.
Isolation of coagulase-positive staphylococci is common in the lesions.
As the nodules break down, crusts may form over a deep ulcer, which extends centrifugally but tends to heal centrally. This process is persistent, and slow healing is characteristic. See the image below.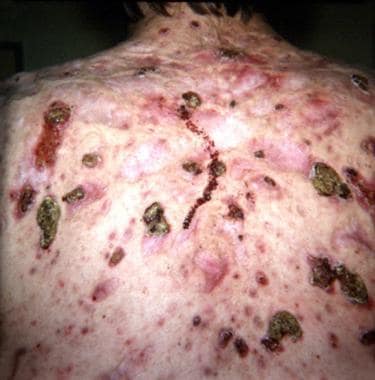 A closer view of nodules and pustules on the back. Courtesy of Emanuel G. Kuflik.
A conspicuous feature of the disease is the blackheads that appear in pairs or groups on the neck or the trunk; sometimes, blackheads involve the upper arms or the buttocks. [24]
---
Did this answer your question?
Additional feedback? (Optional)
Thank you for your feedback!