Answer
Early lesions manifest as firm, dome-shaped, follicular-based papules that are 2-4 mm in diameter. The papules are predominately located on the occipital region and nape of the neck. Pustules may be present, but often only excoriated papules can be identified because the lesions are often pruritic or they become traumatized when the hair is groomed.
As the disease progresses, more papules and pustules appear and, over time, can coalesce to form larger plaques. See the image below.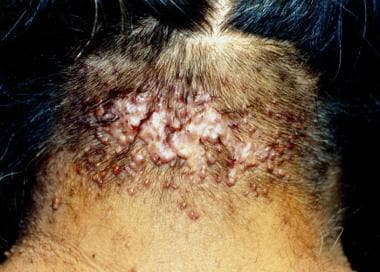 Numerous acne keloidalis papules and plaques in a white man with straight hair.
Ultimately, keloidlike plaques arranged in a bandlike distribution at or below the posterior part of the hairline can be identified. See the image below.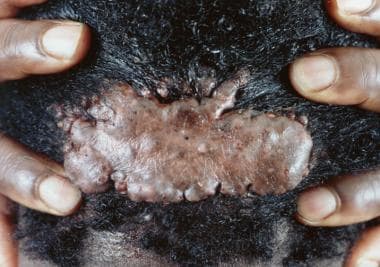 A large acne keloidalis plaque in a bandlike distribution at the posterior occiput in an African American man.
The plaques are usually only a few centimeters in diameter, but they can be greater than 10 cm in diameter. See the image below.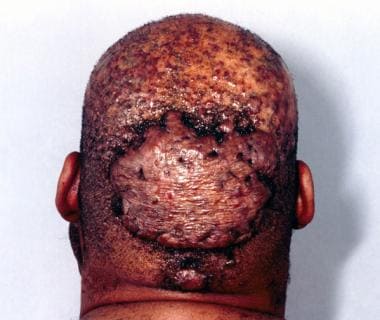 A large acne keloidalis plaque on the occipital region in an African American patient. This man also had perifolliculitis of the scalp and acne conglobata (the follicular occlusion triad).
Scarring alopecia eventually ensues. In chronic lesions, broken or tufted ("doll-like") hairs may be seen within or at the periphery of the plaque. See the image below.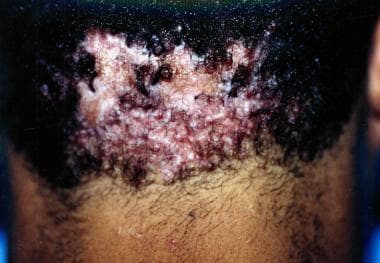 Numerous papules that have coalesced into a large plaque, within which are tufts of hairs with several hair shafts exiting the same follicular orifice.
Abscesses with draining sinuses also may be present.
---
Did this answer your question?
Additional feedback? (Optional)
Thank you for your feedback!