Answer
The cutaneous lesions of neutrophilic eccrine hidradenitis (NEH) are protean. Neutrophilic eccrine hidradenitis lesions may be solitary or multiple. Erythematous or purpuric macules, papules, nodules, or plaques are described most frequently. Hyperpigmented plaques, annular lesions, [33] and sclerodermoid changes [34] have also been noted. Tenderness may be elicited. The trunk or limbs are most often involved. Neutrophilic eccrine hidradenitis simulating orbital cellulitis, [35] facial cellulitis, [36] symmetrical ear swelling, [37] miliaria rubra, [38] and acanthosis nigricans [39] have been documented.
See the image below.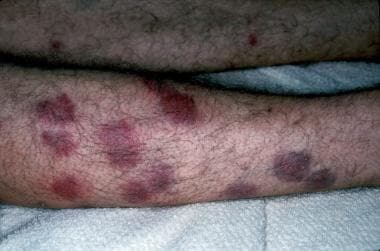 Courtesy of Jeffrey P. Callen, MD.
---
Did this answer your question?
Additional feedback? (Optional)
Thank you for your feedback!