Answer
Physical findings of keratosis pilaris (KP) are limited to the skin. Upon gross examination, the skin of the outer-upper arms and thighs is frequently affected. The skin is described as chicken skin or goose-bumps. Often, 10-100 very small, slightly rough bumps are scattered in an area. Palpation may reveal a fine, sandpaper like texture to the area. Some of the bumps may be slightly red or have an accompanying light-red halo, indicating inflammation. In some instances, scratching away the surface of some bumps may reveal a small, coiled hair.
Small (up to 1-2 mm) folliculocentric keratotic papules are noted (see the image below). These are small bumps centered on small hair follicles. Some associated inflammation (erythema) may be present, and lesions may be the color of the skin. Often, a small, coiled hair can be seen beneath the papule. In other instances, a keratin plug or pimple like material may be expressed from each bump. Pustules and cysts are fairly rare.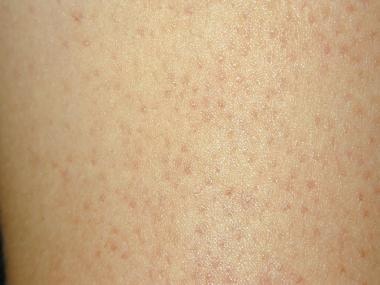 Close-up view of keratosis pilaris. Keratotic follicular-based erythematous papules are noted on upper arm.
---
Did this answer your question?
Additional feedback? (Optional)
Thank you for your feedback!