Answer
Histologically, all cases of superficial folliculitis have a similar appearance in that they show a moderately intense infiltrate of inflammatory cells in the follicular ostium and upper regions of the follicle. In most cases, the inflammation initially consists of neutrophils and then becomes more mixed with the addition of lymphocytes and macrophages. If the folliculitis is from an infectious cause, then various organisms can be identified within the follicle. [35] Note the image below.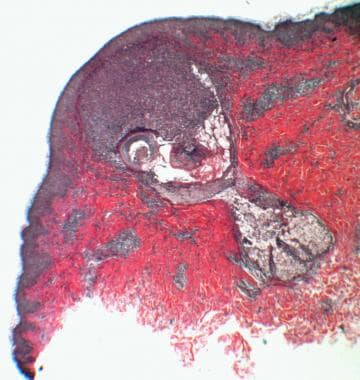 Superficial folliculitis with neutrophils concentrated in the upper aspect of the follicle
Folliculitis can also extend deeper, with the inflammation involving the entire length of the follicle and often encompassing the adjacent dermis as a focal dermal abscess.
In perifolliculitis, the inflammation is restricted to the area immediately surrounding the follicle, as demonstrated in the image below.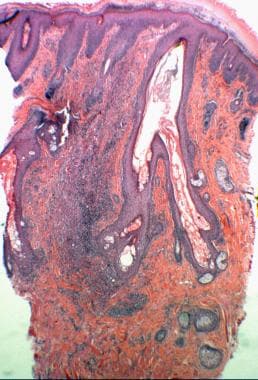 Perifolliculitis, showing inflammatory cells surrounding the follicle,
---
Did this answer your question?
Additional feedback? (Optional)
Thank you for your feedback!