Answer
Pseudomonal folliculitis is another gram-negative folliculitis and is also known as hot tub (spa) folliculitis and wet suit folliculitis (see the images below). It appears 8-48 hours after exposure to contaminated water or wet suits as erythematous follicular-based papules and pustules that are most concentrated in areas occluded by swimwear. This form of folliculitis may be associated with systemic findings such as fever, headache, sore throat, malaise, or gastrointestinal distress, but it is a self-limited condition that resolves in 7-14 days. Aeromonas folliculitis is also associated with water exposure. [16]
Another similar condition is Pseudomonas hot hand-foot syndrome, which occurs in a similar clinical situation but eventuates in painful erythematous nodules and papules on the palms and soles rather than folliculitis. [17]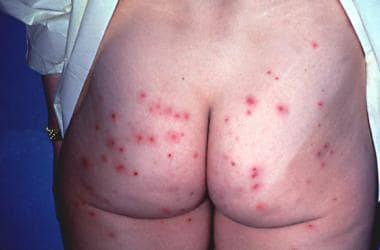 A 30-year-old woman with hot tub folliculitis. She had used a hot tub 2 days prior, wearing a bikini-style bathing suit.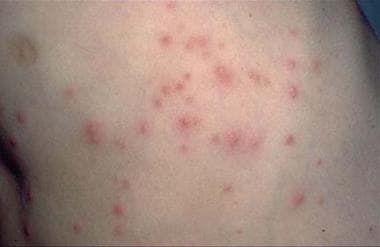 Pseudomonas folliculitis. Courtesy of Hon Pak, MD.
---
Did this answer your question?
Additional feedback? (Optional)
Thank you for your feedback!