Answer
Patients with superficial folliculitis usually present with multiple small papules and pustules on an erythematous base that are pierced by a central hair, although the hair may not always be visualized. Deeper lesions manifest as erythematous, often fluctuant, nodules. Sometimes, a patterned folliculitis occurs in areas that were shaved or occluded. Any hair-bearing site can be affected, but the sites most often involved are the face, scalp, thighs, axilla, and inguinal area.
Folliculitis has been traditionally divided into superficial and deep forms; however, most superficial forms can evolve into the deep form. The most common superficial form of infectious folliculitis is known as impetigo of Bockhart, barbers itch, or folliculitis barbae and is caused by Staphylococcus aureus, such as the infection shown in the image below. The lesions are seen in the bearded area, often on the upper lip near the nose, as erythematous follicular-based papules or pustules that occur in crops and may rupture leaving a yellow crust. The pustule is often pierced by a hair that is easily extracted from the follicle. This form of folliculitis occurs more commonly in carriers of nasal staphylococci.
Another type of superficial folliculitis caused by staphylococci is a sty, which only differs from typical folliculitis in that it occurs on the eyelid. [31]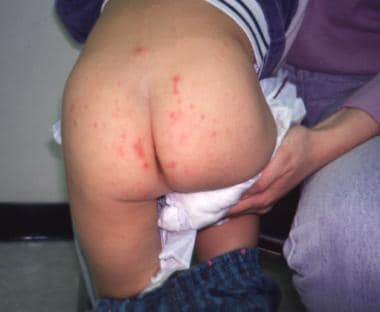 A 22-month-old boy with a staphylococcal folliculitis on the buttocks. The lesions have been excoriated. Diaper occlusion may have been related to onset of the rash.
---
Did this answer your question?
Additional feedback? (Optional)
Thank you for your feedback!