Answer
Triamcinolone acetonide (Kenalog) is used most commonly; concentrations vary from 2.5-10 mg/mL. The lowest concentration is used on the face. A 2015 study showed no difference in regrowth when using 2.5 mg/mL, 5 mg/mL, or 10 mg/mL and all were superior to placebo. A 2020 study that included 543 patients showed that 5- and 10-mg/mL concentrations may be a little more effective than concentrations of less than 5 mg/mL (< 5 mg/mL = 65%, 5 mg/mL = 80%, and 10 mg/mL = 76% of regrowth). [25] Although all concentrations were well tolerated, more cases of reversible skin atrophy were seen in the 10-mg/ml group. [26] The lowest concentration should always be used on the face to avoid skin atrophy. Caution should be used in patients with glaucoma when treating the eyebrows. It may be best to consult with their ophthalmologists.
Less than 0.1 mL is injected per site, and injections are spread out to cover the affected areas (approximately 1 cm between injection sites; see image below).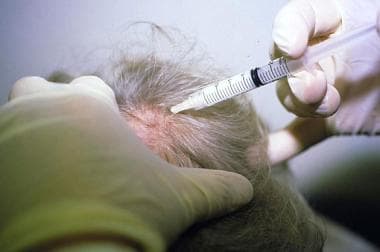 Corticosteroid injection.
---
Did this answer your question?
Additional feedback? (Optional)
Thank you for your feedback!