Answer
The natural history of alopecia areata is unpredictable. Extreme variations in duration and extent of the disease occur from patient to patient. Alopecia areata most often is asymptomatic, but some patients (14%) experience a burning sensation or pruritus in the affected area. The condition usually is localized when it first appears. Of patients with alopecia areata, 80% have only a single patch, 12.5% have 2 patches, and 7.7% have multiple patches. No correlation exists between the number of patches at onset and subsequent severity. Alopecia areata most often affects the scalp (66.8-95%); however, it can affect any hair-bearing area. The beard is affected in 28% (males; see first image below), eyebrows in 3.8%, and extremities in 1.3% of patients (see second image below). More than one area can be affected at once.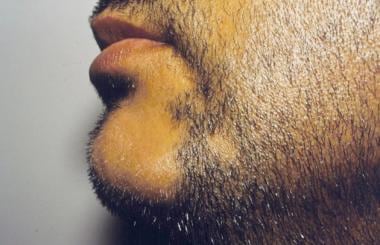 Alopecia areata affecting the beard.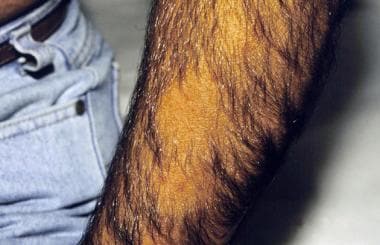 Alopecia areata affecting the arms.
---
Did this answer your question?
Additional feedback? (Optional)
Thank you for your feedback!