Answer
Hermansky-Pudlak syndrome (HPS) is a rare group of autosomal recessive diseases whose manifestations include oculocutaneous albinism, bleeding, and lysosomal ceroid storage. [1] Its etiology has been related to defects in 7 genes: HPS1, HPS2 (AP3B1) , HPS3, HPS4, HPS5, HPS6, and HPS7. Before 2016, only 9 types of Hermansky-Pudlak syndrome were defined; in 2016, a tenth type was defined based on mutations in the AP3D1 gene. [2] See the image below.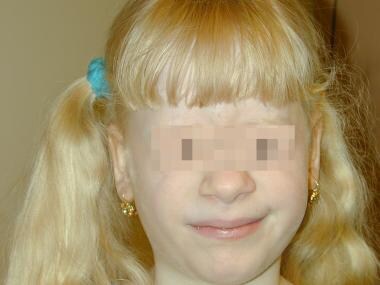 The face of a Puerto Rican girl with Hermansky-Pudlak syndrome. Note the blond hair and the pale skin.
See 13 Common-to-Rare Infant Skin Conditions, a Critical Images slideshow, to help identify rashes, birthmarks, and other skin conditions encountered in infants.
The type of albinism associated with Hermansky-Pudlak syndrome is a tyrosinase-positive form. Because patients with Hermansky-Pudlak syndrome can produce some melanin, varying amounts of pigmentation may be present; some patients have blond hair and others have brown hair. Secondary to the albinism that results from Hermansky-Pudlak syndrome, visual defects, including photophobia (light sensitivity), strabismus (crossed eyes), and nystagmus (involuntary eye movements), occur.
The bleeding problems of Hermansky-Pudlak syndrome result from platelet dysfunction and manifest with easy bruisability, nose bleeds, and extended bleeding times.
Pulmonary fibrosis, inflammatory bowel disease, and kidney disease are all symptoms linked to ceroid accumulation in the cells of these organs.
Hermansky-Pudlak syndrome was first noted in 1959 by Hermansky and Pudlak, who described 2 unrelated persons with albinism with lifelong bleeding tendencies and peculiar pigmented reticular cells in the bone marrow as well as in biopsy samples of the lymph node and the liver.
---
Did this answer your question?
Additional feedback? (Optional)
Thank you for your feedback!