Answer
A lentigo is a small, sharply circumscribed, pigmented macule surrounded by normal-appearing skin. Histologic findings may include hyperplasia of the epidermis and increased pigmentation of the basal layer. A variable number of melanocytes are present; these melanocytes may be increased in number, but they do not form nests. Lentigines may evolve slowly over years, or they may be eruptive and appear rather suddenly. Pigmentation may be homogeneous or variegated, with a color ranging from brown to black.
Multiple clinical and etiologic varieties exist. The distinction of a lentigo from other melanocytic lesions (eg, melanocytic nevi, melanoma) and its role as a marker for ultraviolet damage and systemic syndromes is of major significance.
A case-controlled study in France comparing 145 adults with multiple solar lentigines on the upper back and 145 matched control subjects found that multiple solar lentigines on the upper back and shoulders of adults may serve as clinical markers of past severe sunburn and may be used to identify a population at higher risk of developing cutaneous melanoma. [1]
The concept of "unstable solar lentigos" evident as irregularly pigmented macules on the background of chronic sun damage has been considered alongside the idea that they may have malignant potential. [2]
Note the images below.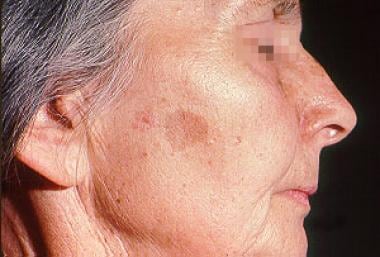 Woman with solar lentigo.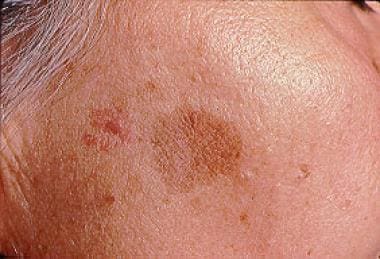 Close-up view of a woman with solar lentigo.
---
Did this answer your question?
Additional feedback? (Optional)
Thank you for your feedback!