Answer
Systemic sclerosis (SSc) is a systemic connective tissue disease. Characteristics of systemic sclerosis include essential vasomotor disturbances; fibrosis; subsequent atrophy of the skin (see the image below), subcutaneous tissue, muscles, and internal organs (eg, alimentary tract, lungs, heart, kidney, CNS); and immunologic disturbances accompany these findings.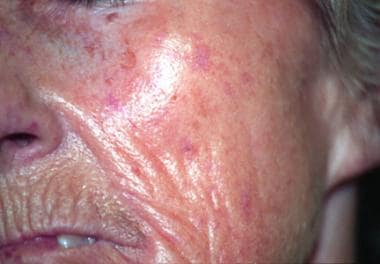 Telangiectasias affecting the face: They are pronounced and numerous, especially in the atrophic phase of the disease. Radical furrowing around the mouth is also characteristic in the later stage of the disease.
In one survey one quarter of patients with Raynaud phenomenon not fitting the 1980 American College of Rheumatology classification criteria were reclassified as having systemic sclerosis using the 2013 American College of Rheumatology/European League Against Rheumatism (EULAR) criteria. [1]
See Cutaneous Clues to Accurately Diagnosing Rheumatologic Disease, a Critical Images slideshow, to help recognize cutaneous manifestations of rheumatologic diseases.
Also see Juvenile Systemic Sclerosis for a pediatric focus.
---
Did this answer your question?
Additional feedback? (Optional)
Thank you for your feedback!