Answer
Subacute cutaneous lupus erythematosus (SCLE) is a nonscarring, non–atrophy-producing, photosensitive dermatosis. SCLE commonly develops in sun-exposed areas, including the upper back, shoulders, extensor arms, neck, and upper torso, while the face is often spared. These skin lesions can appear as either papulosquamous (psoriasiform) or annular lesions.
SCLE is a subtype of cutaneous lupus erythematosus (CLE); other subtypes include acute cutaneous lupus erythematosus (ACLE) and chronic cutaneous lupus erythematosus. Chronic cutaneous lupus erythematosus includes discoid lupus erythematosus (DLE), lupus erythematous panniculitis/profundus, lupus tumidus, and chilblain lupus.
SCLE may occur in patients with systemic lupus erythematosus (SLE), Sjögren syndrome, deficiency of the second component of complement (C2d), or it may be drug-induced. SCLE is the most common subtype of CLE associated with Sjögren syndrome. [1] Some patients with SCLE may also have ACLE, if they have concomitant SLE, or the lesions of DLE and some may develop small-vessel vasculitis. (See the image below.)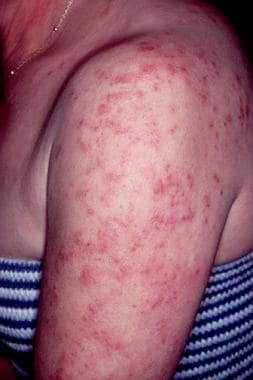 Early lesions of subacute cutaneous lupus erythematosus may simulate polymorphous light eruption.
See Cutaneous Clues to Accurately Diagnosing Rheumatologic Disease, a Critical Images slideshow, to help recognize cutaneous manifestations of rheumatologic diseases.
Patients with SCLE frequently fulfill four or more of the criteria used to classify SLE. Serologic abnormalities are common. Therapy with sunscreens, topical corticosteroids, and antimalarial agents is often effective; however, some patients require additional agents to control their cutaneous disease. If SCLE is drug-induced, withdrawal of the culprit medication in conjunction with medical therapy is often necessary for disease control. (See Workup and Treatment.)
SCLE lesions heal without scarring or atrophy, but they may result in dyspigmentation, which can be prominent. Severe systemic disease is unusual, but when it occurs, the patient may develop life-altering sequelae.
---
Did this answer your question?
Additional feedback? (Optional)
Thank you for your feedback!