Answer
Shave biopsy or excisional/incisional biopsy can help distinguish bullous disease of diabetes from clinically similar conditions. For routine histologic sections, the clinician should include the blister and portions of the underlying dermis in the biopsy specimen and submit it in formalin.
Histologic features of bullous disease of diabetes are not entirely specific; lesions have a heterogeneous histologic presentation. Many of the reported cases describe a separation in the superficial epidermis within the superficial part of the spinous layer.
The blister plane may also appear in a subcorneal, intraepidermal, or subepidermal location; electron microscopy of fresh blisters has revealed separation in a subepidermal location, residing in the lamina lucida or the sublamina densa. [15] Anchoring fibrils and hemidesmosomes are reported absent or decreased in early blisters (see the image below).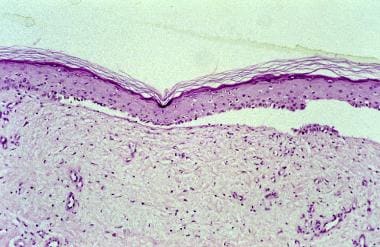 Bullous disease of diabetes (bullosis diabeticorum). Histology of bullosis diabeticorum showing a noninflammatory blister with a subepidermal and focally intraepidermal separation (hematoxylin and eosin stain).
Note that the variable blister plane may be related to the blister age, because reepithelialization can occur within days of blister onset. The blister cavity contains sterile proteinaceous fluid; an inflammatory component is absent or insignificant.
Surrounding epidermis does not show significant change; however, rare reports describe associated spongiosis and degenerative keratinocytic pallor. Acantholysis is absent. Dermal changes (eg, capillary wall thickening, dermal sclerosis) may reflect the patient's underlying diabetes mellitus (see the image below). Caterpillar bodies typical of porphyria have been reported in lesions of bullous disease of diabetes.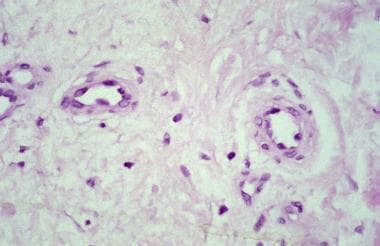 Bullous disease of diabetes (bullosis diabeticorum). High-power view of the dermis beneath the blister showing capillary wall thickening (hematoxylin and eosin stain).
---
Did this answer your question?
Additional feedback? (Optional)
Thank you for your feedback!