Answer
The goals of the physical examination should include determining the location and physical characteristics of lesions, developing a useful differential diagnosis, and determining the need for biopsy to secure a correct diagnosis and for culture to identify secondary infections that may require treatment.
Common findings of bullous disease of diabetes (bullosis diabeticorum) include tense, nontender blisters arising on nonerythematous skin (see the image below).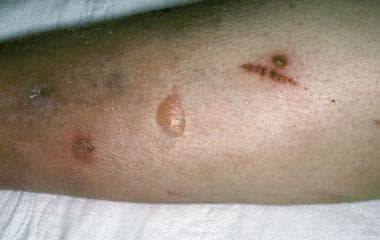 Tense noninflammatory bulla on the leg.
Blisters tend to be large (from 0.5-17 cm in diameter), often with an irregular shape, simulating a burn. Some blisters may also be flaccid. Although blisters typically occur on the feet or lower legs, they also may occur on fingers, toes, hands, and arms. (See the image below.)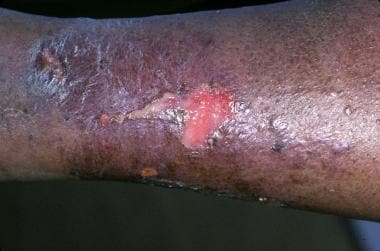 Unroofed blister on the leg. Note the irregular shape.
Rarely, nonacral sites (eg, trunk) may be involved.
See Diabetic Ulcers for more information.
---
Did this answer your question?
Additional feedback? (Optional)
Thank you for your feedback!