Answer
Certain hereditary syndromes are associated with epidermoid cysts. Such syndromes include Gardner syndrome, [32] basal cell nevus syndrome, [5, 12, 27] and pachyonychia congenita. [33, 34] In addition, idiopathic scrotal calcinosis may actually represent an end stage of dystrophic calcification of epidermoid cysts. Note the image below.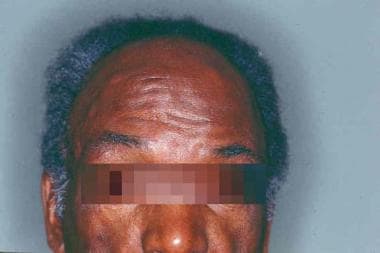 Multiple epidermoid cysts on the forehead of a patient with Gardner syndrome.
---
Did this answer your question?
Additional feedback? (Optional)
Thank you for your feedback!