Answer
An acantholytic type with acantholysis also occurs and is particularly prominent in the squamous eddies of irritated seborrheic keratosis. Irritated seborrheic keratoses show a change from the basaloid keratinocytes observed in the acanthotic type, which are more mature squamous cells, to cells that are sometimes associated with mild nuclear atypia. The keratinocytes are arranged in swirls or whorls known as squamous eddies. Spindling of keratinocytes is common. Inflammatory cells are often observed intermingled with the proliferated epidermal cells, shown in the image below.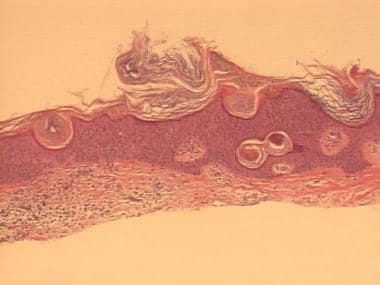 Seborrheic keratosis with inflammation in the dermis.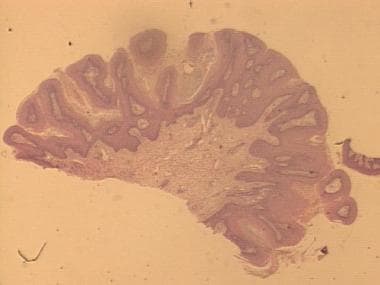 This seborrheic keratosis was a pedunculated lesion in an axillary fold. Clinically, it had some resemblance to a skin tag.
---
Did this answer your question?
Additional feedback? (Optional)
Thank you for your feedback!