Answer
These lesions are raised above the skin surface, and they show a papillomatous epithelial proliferation containing horn cysts without any tendency toward malignancy. The proliferating cells are epidermal and have a basaloid appearance. The number of epidermal basal cells is greatly increased. The acanthotic pattern (see the images below) is the most frequent, in which a thick layer of basal cells is observed interspersed with pseudo-horny cysts. Invaginations to form keratin-filled pseudocysts are present. Some of these cells contain melanin.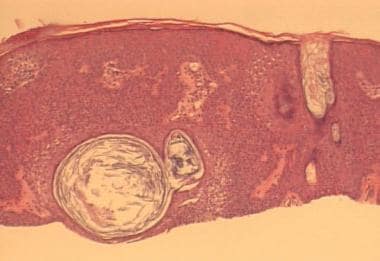 Acanthotic type of seborrheic keratosis.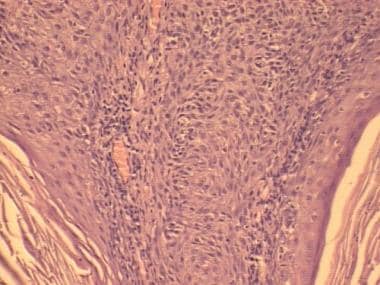 Higher-power view of the cells in an acanthotic seborrheic keratosis.
---
Did this answer your question?
Additional feedback? (Optional)
Thank you for your feedback!